Well it is my joy to announce that I will be doing weekly reviews for Cigar Federation as I transition into a trial moderator position.  However, Logan is really putting the heat on me to see what I can produce over the next few months, so I need a little help.  I need you all to let Logan know how awesome and cool I am.  You might be saying, "But Tyler, lying is bad".  But I don't care, I say do it anyway!
In all seriousness, this is an exciting transition for me, and I hope you guys enjoy the reviews. 
These will follow the same rules as the reviews on my site with each being 200 words or less (not including the descriptions of size, etc. at the top).  However, this first one will not follow this format exactly as these cigars came to me from a very strange set of circumstances.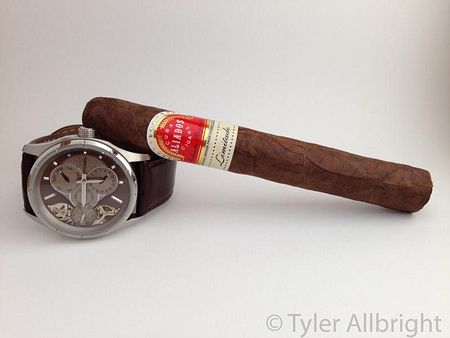 Wrapper: Honduran Habano
Binder: Honduran
Filler: Honduran
Price: $4-$6
Rating: 9.5/10

Cigars Smoked: 2
Roughly two months ago I had a dream I won a box of Cuba Aliados cigars.  I do not remember specifics, but I accepted the box as some kind of an award.  I woke up with a smile that quickly turned into a frown when I realized it was in fact a dream.  I was crazy to think that I could win an award, much less a box of cigars.  You may think I'm crazy as well for dreaming of cigars, hell I probably am; however, the guys at Reyes Family Cigars seem to think the contrary. 
That day, unrelated to my dream, they posted a picture of some fresh rolled Cuba Aliados Limited Editions on Instagram.  I made an offhand comment about my dream, and next thing I know they told me to email them for a sampler of cigars.  A week later I was the proud owner of a small box of Cabinet Selection Toros.  Was it Fate?  I think so.  I was destined to have these amazing cigars.  
Pre-light draw reveals a slight spice mixed with dark earth undertones.  The draw is spot on and fairly open. 
Upon lighting the cigar my palate is met with a sweet tobacco taste accompanied by milk chocolate.  There is also an earthy-leather essence that I am absolutely loving.  It is definitely medium to full in body and is probably best suited as an evening cigar.
The second third brings with it a faint oak flavor on the retrohale.  The dark aromas continue as the milk chocolate fades to cocoa.  This cigar is very smooth and well rounded.  To say I am pleasantly surprised would be a vast understatement.  This is right up my alley.
In the final third the leather and cocoa come to the forefront.  The flavor profile was so enjoyable that I decided to nub this cigar.  It was at this point that the spice ramped up and it became harsh, so I let it go out. 
Overall, this is a great cigar for the price.  If you love complex, medium to full bodied cigars this is hands down a winner.  I give this cigar 9.5 out of 10.  In fact, I placed an order for more this weekend. 
*In no way did the gifting of this cigar have an impact on this review.  I will always try to be completely honest in my reviews as well as divulge this information when necessary.