I am a huge fan of mini cigars.  As a musician, I am always in and out of bars playing gigs, yet never have the time to sit down and enjoy a cigar when I am out and about.  Accordingly, I am always on the lookout for small cigars that last 15-30 minutes, and do not tar up. Logan took me to meet Eddie Ortega at IPCPR, and when we sat down, he made it a point to gift us some samples of his new mini line.  During our conversation, I mentioned how much I love minis, and that I would do a writeup on his samples.  The conversation turned towards discussing the profile of a mini, as opposed to a proper writeup, as the intention is to get a solid tobacco flavor in a short amount of time, not complexity.  Over the following months, I took the time to take brief notes when I smoked minis, to compile a list of recommendations for this review.  Most of these times were spent quickly on a gig break, on a commute, or with company when I did not have enough time to smoke a larger cigar.  I really had no determining factor in how I chose what to smoke, other than time constraints.
Avo XO Presto: Vanilla and musk notes are present.  Definitely hits the signature Kelner notes in a medium format.  Great finish with latte flavors, and a very rich profile.  I have a 40-minute commute to my rehearsal studio, and the Presto was perfect coming in right around 30 minutes.  Fans of Avo, Davidoff, and medium Connecticut's will enjoy this cigar.  The price is a bit high honestly, at $5 a stick when you buy a box.  I ended up scoring one for $50, so it was a no brainer for me.  I normally smoke the Avo Purito's on a regular basis.
John T Vanilla Cigarillo: This was a very mild cigar, and given the vanilla flavor, I was surprised there was not much on my palate, which was a good thing.  The vanilla notes settled directly on my lips, very different then an infused cigar.  The finish was excellent, and this would pair very well with a dark beer or coffee.  I experienced no palate burn, and it was a very nice changeup.  I would highly recommend this to shop owners for newer cigar smokers, as it is a much better experience then smoking infused.  They do not need humidity if stored in a plastic bag, as they are made with pipe tobacco, making storage for a newer smoker is easy.  If they made these with filler similar to Captain Black Royal, I would smoke them like crazy.  The John T was an excellent commute cigar that lasted around 20-mintues, and they are sold individually.  Aromatic pipe smokers will love it really.
Ashton Half Corona: I do not like giving bad reviews of cigars, as taste can be very subjective.  I really did not enjoy this cigar, and I found it annoyingly grassy.  I cannot say I would recommend it, but it was the least impressive of the lot I chose for this review column.  The one I had for review was during a gig break, with Jameson's and water.  Without a pair, I might have tossed it earlier, but did not finish it given the finish.  Maybe some time in the humi will improve the finish. 
Eddie Ortega Maduro: I smoked this guy after loading up my gear post gig.  Another mini with an excellent finish, very smooth medium, and I wanted to burn the label off.  One problem I have with mini's, is I start driving and forget to pull the label off, which becomes a problem driving stick.  This reminded me of Mexican coffee between the cinnamon and cocoa notes.  I love the packaging as well, and that adds to the portability. I can see myself smoking these regularly, but towards the end of the night when I want a bit more strength.
Don Pepin Garcia Blue Demi Tasse: I was immediately greeted with a nice pepper blast, and paired this with Glenmorangie and a Moose Drool Porter.  The Demi Tasse had rich, woody undertones, some nutty notes, with a heavy finish.  I would say the finish was a bit too much for my tastes, but Nicaraguan fans and DPG fans will love it.  I was surprised at how well this paired with the scotch. I would buy them again to smoke sparingly with the right pairing.  Unfortunately, they are sold in a box, so portability is a factor, along with cost unless you find singles.
Regius Purito: I freaked out when I saw Regius had tins at IPCPR.  Akhil gifted me one, and I finished it in a couple weeks honestly.  The profile is rich, smooth, with an excellent finish.  I could smoke these every day.  Flavor profile is creamy, nutty, latte undertones, and leaves a desirable aftertaste. Given the size, this is a good 20-minute cigar that will deliver a medium rich Nicaraguan profile.  Given these are under $3 a stick, they are an excellent economical choice to me.  My only complaint is the tin is large.  Maybe double stacking them in a tin would make it easier to get them in my pocket; however, that will not change the fact I will smoke hundreds of these.
Eddie Ortega Connecticut: The Connecticut reminded me of a creamy coffee really, but stronger then most mild cigars.  The finish was a bit heavy for my tastes, and reminded me of some Nicaraguan Connecticut cigars that tend to be heavy on the cedar and spice.  I think Logan would love this cigar really.  There is plenty of pop in this little guy, even though it is considered a mild cigar.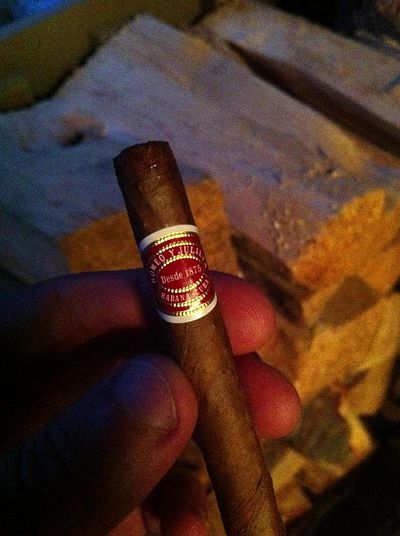 Romeo y Julieta Petite Julieta: I scored a box of these on a great deal earlier this year for $60 shipped.  I dig Romeo Habanos, but they need age in my opinion.  The Petite Juleita was perfect on vacation, when I was constrained by time given my company.  Dark fruit notes were present, along with a very floral aftertaste that melts into a typical habanos finish.  Honestly, this is one of the better small Habanos I have smoked, and they have improved over time.  Normally they are right around $3 a piece when you box buy, and they are worth it to me for instances like this.  I had no way to sneak out for a real cigar on this vacation, so they came in handy.  I would recommend these to any smoker, but would warn against smoking them fast as they can tar and plug a bit.  I normally transport them in a tubo.
Final Thoughts: I hope this gives some folks an idea of some of mini cigars out there on the market. If I get enough response, I may take the time to write up another column in the future.  There are other mini cigars I regularly enjoy, and tend to buy them at shops all the time.   I wanted to spotlight Eddie's stuff as I feel his packaging and size is perfect.  Some of the smaller ring gauges tend to plug or tar up if you smoke them fast, and given the smaller sizes, can get crushed in a pocket.  Having a package that fits in your pocket is perfect, as opposed to some of the larger tins that are out there.