You know those promises you make to yourself. The ones in a drunken haze on a New Years night when you're staring at yourself in the mirror saying stupid crap like "im guna blurga booda boo zupamaddie" Which roughly translates in NON-Drunkenise to "I'm gonna lose that extra 100lbs and become a supermodel dammit!!!"
Well this wasn't one of those promises...but it was still a promise to myself that I made a good 10 months ago. I promised myself I would NOT smoke an OPUS X until 2 things happened:
1. My palate was developed enough that I could enjoy it.
2. I had an aged one to smoke so that I could really see what all the hype was about.
Well, last week, I broke that promise, at least ONE of them. I has been 10 months, my palate has developed quite nicely (32c if you must know, which is a great size, handful, not too much...WAIT. WTF are we talking about? Oh yeah..never mind I digress)
Well last week...I just broke down and said, what the heck, I could get hit by a bus tomorrow and die, or what if a bear walked in the room and was like "Hey, I'm gonna eat your FACE off and use your bones to wipe my ass!!!" and then I was like all "WTF A TALKING BEAR!!! I WISH I HAD SMOKED THAT OPUS X!!!!!"
And again, I digress.....
This particular Opus has about 8 months on it....so here goes....
OPUS X Perfecxion #4: The Meme Review
1st Third:

2nd Third: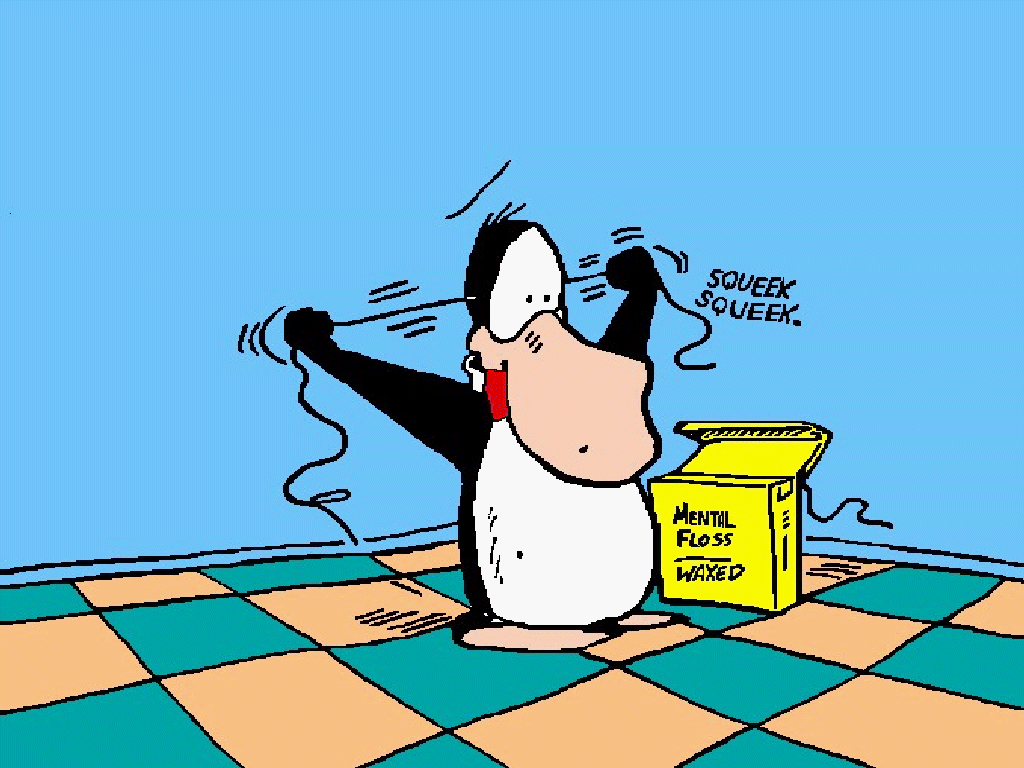 Final Third:
OPUS X Perfecxion #4: The Verbal Review
Size:
5 3/16 X 42
Wrapper:
Dominican Republic
Binder:
Dominican Republic
Filler:
Dominican Republic
Strength:
Full
Pre-Light:
Fuente does a lot of things right, and very few things wrong. The Opus X, is a whole lotta right! The cigar is beautiful from the foot to the head. That awesome looking band, that great construction, the smell. It just screams quality.
Upon smelling the wrapper and taking the cold draw, I was getting tobacco and hay. You almost hate to unwrap this cigar, between the cloth foot and the cedar sleeve, its like your undressing a lady, a special lady who likes it when you...uh...well...this could turn ugly so I will move on.
Anyway taking the cedar sleeve and cloth foot off is kind of a pain in the ass. Stupid tape, stupid impatience, after a mad fumbling, I am ready to light this baby up!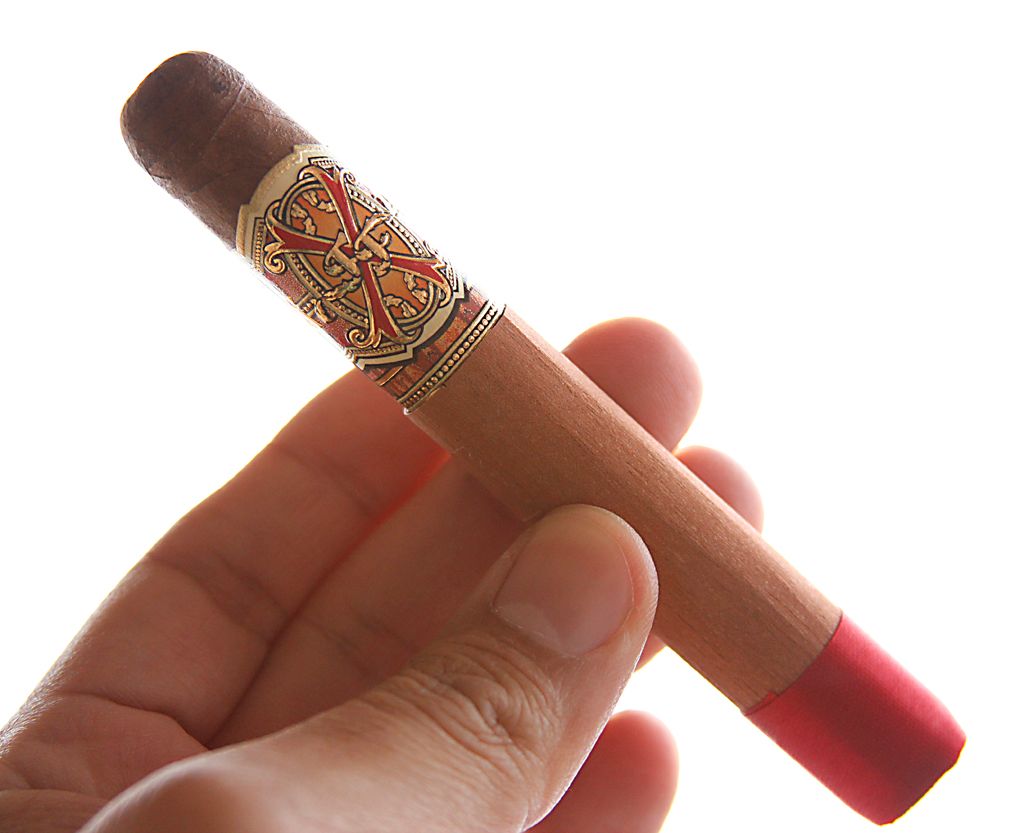 1st Third:
From the get go there is a strong cedar taste. I am sure keeping the cedar band on it helped that. I am also getting a good deal of pepper but not harsh pepper. More of a complimentary pepper if that makes any sense. The draw is perfect and the flavors meld together very well. My strongest fears of "not liking an Opus because it wasn't ready to smoke" have been squashed so far! The shear volume of flavor is hitting my palate at a crazy pace. Almost like it is raping my palate, this cigar is raping my mouth, but in a good rape kind of way. (dude, you just said good and rape in the same sentence!! WTF MAN!! this is your self conscious telling you to NEVER DO THAT AGAIN!)
Retrohale:
There is mostly pepper on the retrohale but I am also getting hints of citrus which is interesting and most welcome! CITRUS? wow? that is out of left field, wasn't expecting that.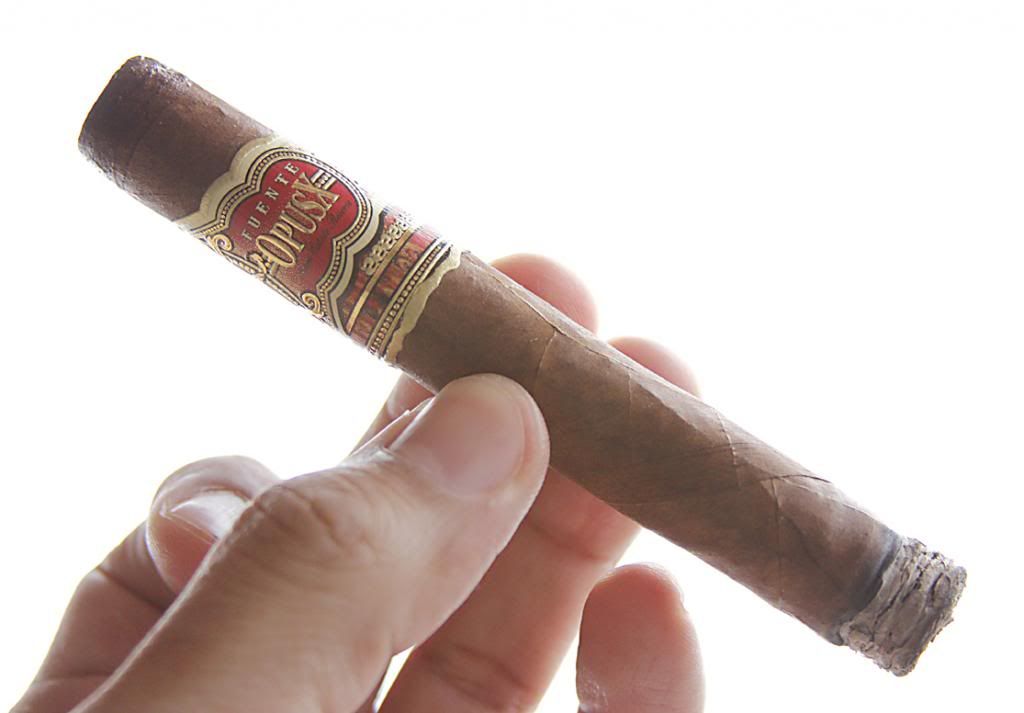 2nd Third:
The citrus I got from the retrohale on the 1st third has moved into the flavor of the cigar as a whole. Add to that a tad of leather and you have what I was expecting from an Opus X, a complex, well balanced flavor coupled with a great draw. One issue is the burn-line isn't razor sharp, but it isn't anything that needs touching up. Overall, at this point, I am VERY pleased with the performance and taste of this cigar. Sure, it isn't quite as "crazy good" as I was expecting at this point, but it is still most excellent in a "Bill and Ted" kind of way.
Retrohale:
The leather really comes out on the retrohale along with the spice.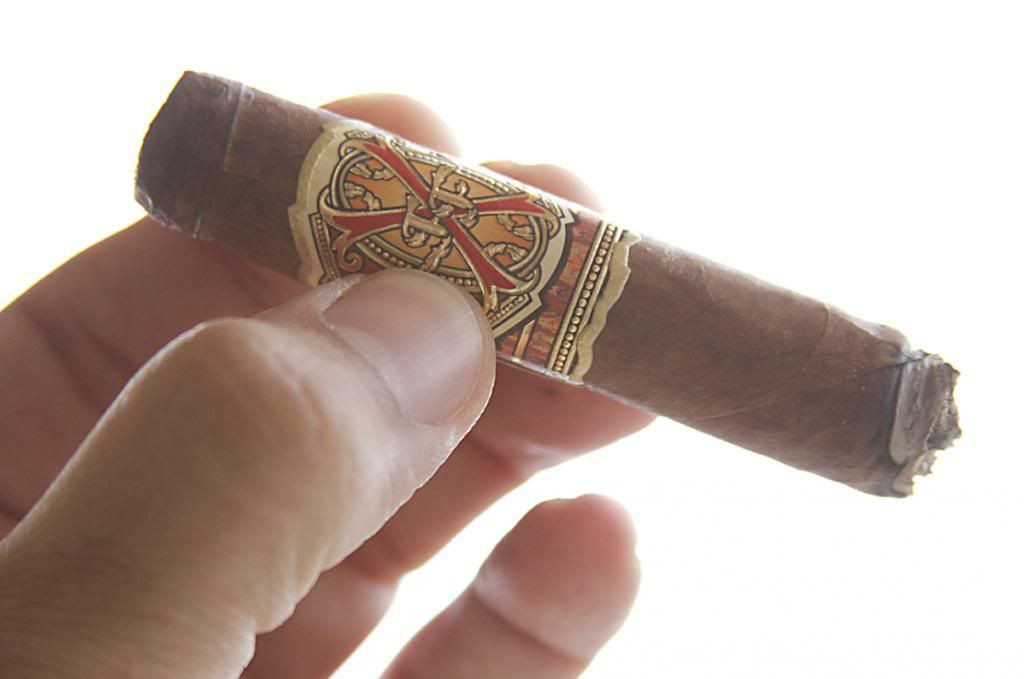 Last Third:
The last third of the Opus X delivers in spades. The spice kicks up a bit, but so does the leather and citrus. It is pretty much a stronger version of the 2nd Third which helps it to deliver a strong finish. Does this cigar deliver on all the hype! Most DEFINITELY!! I am glad I smoked one...and horrified at the same time because now....I MUST HAVE MORE!!! The MOUTH RAPE MUST CONTINUE!! (dude!!! I thought we mentioned no rape talk...No you said no GOOD rape, this is just mouth rape...which is ok...UH NO..its not!! Your gonna get us banned dude! WTF we are talking about cigars here! Why are you talking to yourself so much, just finish the review you freaking nutbag!!...FINE!!!)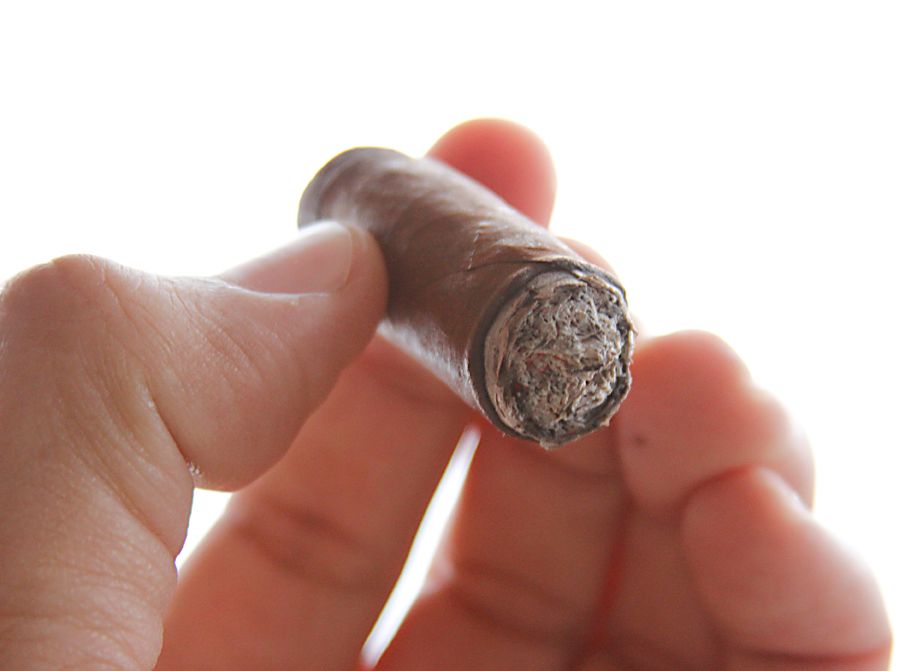 Final Thoughts:

Well, at this point I am still glad that I waited to try one of these. I think my Palate is definitely more refined now and I was able to enjoy it more than if I smoked one say 6 months ago. I will be looking to try more but I don't think it will reach the obsession level of my worst days as a "Liga Hunter!!" I will pick these up when I can, but with so many choices in my humidor it seems a waste to obsess on just one brand, one smoke. Was it worth it, sure, is it the best cigar ever, no, but it was a darn good one and I would love to smoke one again. I think that is all you can really ask.
I am sure I will get a lot of "MAN WAIT TILL YOU TRY A PROPERLY AGED ONE" responses here, but I don't see that happening anytime soon. I don't have the patience to age one, nor do I have the capital to buy an aged one, so that mythical creature will elude me for now. I was just happy to finally have one, and say that i broke my Opus X cherry (I will refrain from further mentions of palate rape).
A few more pics for those that like the cigar pron: