Last weekend, I was lucky enough to attend the New Jersey Cigar Festival sponsored by Barrister Cigars at the Park Avenue Club in Florham Park, NJ.  The event was hugely successful and provided some great experiences with some great people. Going in, I had known that my old buddy Jonathan Drew would be attending and I had tried to weasel some of his new My Uze Weighs A Ton Kentucky Fire Cured cigars from him.  JD, being the awesome guy that he is, had one sample waiting for me as soon as I saw him and I immediately had a hankering to try it, but I knew I really wanted to sit down and experience this because I had never smoked a cigar with a fire-cured leaf before, so I put it away and set out to smoke it at a later point.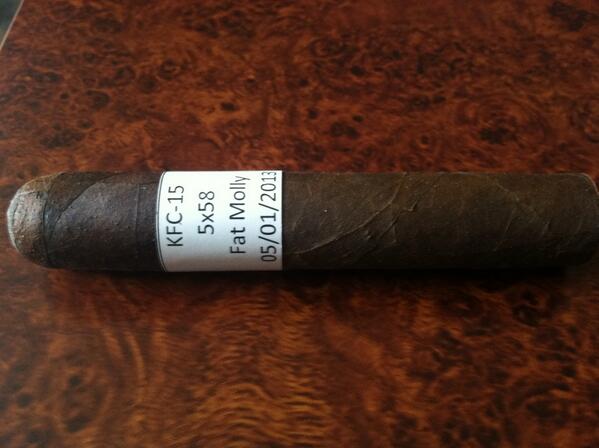 Fast forward to yesterday and I come home from work to find my newborn son sleeping and I realize that I have an opportunity to smoke a cigar for a few minutes and I begin looking into my humidors.  I open the humidor that all attendees received at NJ Cigar Festival and I am immediately hit with the strongest campfire smell you can imagine.  As soon as I even cracked open the humidor, it smelled like my humidor had been salvaged from the bottom of a summer bonfire and managed to remain intact.  The smell off the wrapper was that strong!  When I pulled the Fat Molly from the bag I had it in - yes, I had it in a bag in the humidor and it still smelled that strong - I brought it up to my nose to take a whiff and got a strong beef jerky scent.  Now, I'm starting to get hungry!
With the prep work out of the way, I snipped the cap and lit her up and began to indulge.  I'm not a reviewer, so I'm not going to go into great detail here on the flavors I got.  I will tell you that the jerky/campfire notes were prevalent throughout the smoke, but definitely muted compared to the amazing scents my nose initially picked up - which makes sense given that this is a bigger RG cigar and my understanding is that only the wrapper and maybe some of the filler is fire-cured.  Interesting to note is that the cigar is actually comprised of two wrappers - something that becomes much more obvious when you remove the band.  I am unsure if this technique is used to provide a different flavor/texture on the palate as in the Joya de Nicaragua Cabinetta or if this is supposed to enhance the smoking experience - I'll be curious to get other opinions.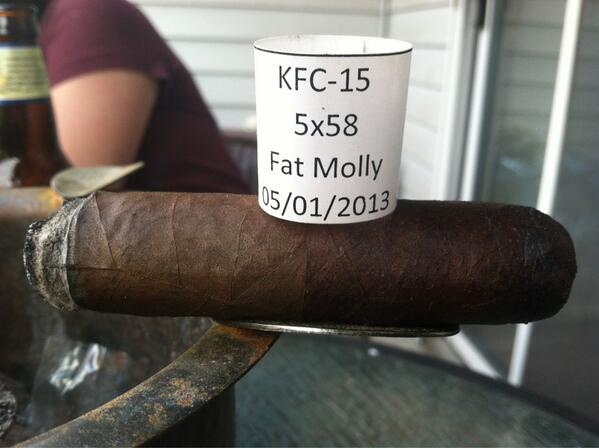 Coming into this cigar, I thought I would either absolutely love it or absolutely hate it - I assumed there would be no middle ground.  While I am not a huge fan of the big RG MUWATs to begin with, I didn't find that this cigar blew me away in that I would be calling up Drew Estate and trying to buy bundles, but I also found it intrigued me enough that I would definitely smoke it again.  As I have discussed with Rob from RobbyRasReviews, I'm intrigued by the fire-cured leaf and would be curious how it would taste in different blends and when used outside of just the wrapper and a little filler.  Also, as a side note, for those curious, while I have heard that you can keep these in your regular humidor, my personal preference would be to keep them in a small desktop - the scent these gave off was just so overpowering I would worry about the impact on other cigars. 
End result is that I think this is a good first-showing for a "new" technique/leaf and I'm curious how the market takes and responds to this. I'll definitely be interested in the final product as I believe the sample I was given is still a work-in-progress and DE/JdN is still working with several different wrapper/binder possibilities. Has anyone else tried it yet? What did you think?