This past weekend was the 3rd Annual NJ Cigar Festival held at the prestigious Park Avenue Club in Florham Park, NJ.  I always get excited for this event for several reasons - it signifies that Spring has officially arrived in New Jersey, its a quality cigar event that is about 15 minutes from my home, and it is typically an extremely nice, laid back cigar event that provides the opportunity to sit and talk with many in the industry as well as several BOTL.
This year, I brought along my buddy Mike who arrived at my house at 10:00am to make the trip.  On the way there, Mike, who I had previously brought to Cigar International's CigarFest, asked me about what to expect.  When we had gone to CigarFest a couple of years ago, we had made an event of it and tailgated in the parking lot, hustled around the venue like chickens without our heads, etc.  I set expectations that this was an entirely different environment and I suspected that he would enjoy this much more. More on that later.
After a quick stop at the bank, we arrived at the Park Avenue Club at roughly 10:40 and I was surprised to see that the event was already pretty crowded with several BOTL already established in sitting areas and smoking even though doors didn't officially open until 11:00am.  I lit up a Ramon Allones Specially Selected and checked in and was given a bag which included a bottle of butane, a Barrister Cigars cigar cutter (Barrister is the organizer of this event), a copy of SMOKE Magazine and a humidor filled with roughly 15 cigars amongst other odds and ends. Additionally, we were each handed this year's "Festival Exclusive" cigar - a Justice Lancero made by Joya de Nicaragua.  The Justice is a "house blend" for Barrister Cigars that I had been asking for in a Lancero for years so I was very excited.
As we waited for doors to open, Dennis Kennedy from 2GR arrived with his buddy Jeff and shortly thereafter, Chris arrived as well and we made some small talk. At 11:00am, doors opened and I immediately made my way to the Drew Estate booth as I was on a mission. I had heard a rumor that the new Herrera Esteli Lanceros were going to be "debuting" at the Festival, but that only 3 boxes would be available - I wanted one.  I got to the table and only saw one box so I immediately grabbed it and told KMack I wanted it! Moments later, I was the proud owner of the first box of Herrera Esteli Lanceros and I got it signed by Willy.
I took a few seconds to speak with Willy and KMack about the cigar and what was coming next.  Willy told me about his next project - the Herrera Esteli Norteno - and that it would debut at IPCPR and likely be in stores by late August, early September.  He mentioned that it was something that Drew Estate was preparing ahead of time and that he is really, really happy with the finished product and branding.  At this point, I also had the opportunity to meet Juan Martinez from Joya de Nicaragua.  I had never met Juan before, but I enjoyed our brief discussion and told him I was excited to try the Justice Lancero.
At this point, we decided it was a good time to find a table to base operations out of and we left the vendor area to find the seating area to enjoy some cigars and company. At this point, Victor Lucatorto arrived with Little Vic, CUBA and Ken Horne. I handed everyone in the group a Cigar Federation Collective and a My Father Robusto Limited Edition from Cigar Republic and proceeded to light up a Trinidad Robusto.  Ken Horne, who I had only known from Twitter previously but really enjoyed speaking to as we share many of the same opinions on the industry, handed me a Tatuaje Black Label Corona Gorda and a Tatuaje Bella Encre Reserva that I was very excited about.  We spent the next several hours having beers, discussing cigars, beer, politics, etc., and enjoying each other's company - I also got a hot towel shave from Manny from American Shave.  I'd also smoke one of the Herrera Esteli Lanceros and an Arturo Fuente Anejo No.77.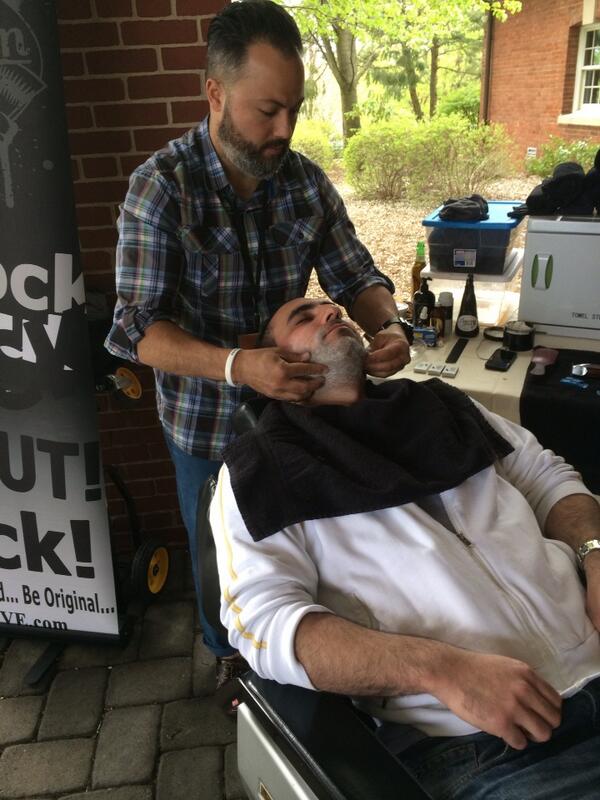 At this point, Glynn Loope of CRA shared a few words (and I ask you to watch this video as my words cannot do it justice), and the raffles began so I made my way back to the vendor area.  The raffle is pretty large considering there are roughly 200 attendees.  Some of the items raffled off were a box of Liga As (twice), bottles of Zing vodka (11 individual bottles), a box of Herrera Esteli lanceros, a Gurkha knife, a Rocky Patel humidor, ashtrays, hats, t-shirts and a trip to Drew Estate Cigar Safari in 2015. I won a T-Shirt, a polo shirt and sampler from 90 Miles Cigars, and a bottle of ZING Red Velvet vodka from Alec Bradley (as part of their relationship with the Maloofs).
With the Festival winding down, I made my way around the vendor booths at this point to say Hello to some old friends. Antonio Lam of Reinado Cigars and I briefly spoke about the upcoming Ecuadorian Connecticut Reinado.  Antonio had given me a very early prototype of his work with this wrapper and I'm eager to try to final product.  Antonio was very positive about where he thinks the cigar ended up and stated that the cigar is slated to debut at IPCPR, but he is planning to have a "soft release" in June.
I spoke for awhile to Phil Zanghi of Debonaire Cigars.  Phil and I had met a few weeks back at a tasting session for a new cigar he was producing for Barrister Cigars called The Verdict (which debuted at the Festival as well).  Phil is someone who I have quickly grown a liking to in the short time I've known him - very down to earth and "real" which is a trait that I know rubs someone the wrong way (because I think I'm the same way), but I find commendable.  We spoke about the Debonaire First Degree that he had given me when we first met. I told him that I loved the cigar and thought it was a great quick smoke - something I'm often looking for in the cold NJ months or during my infant son's naps.  He told me that he originally created that as a giveaway, but so many people complimented the cigar that he decided to produce it as an official release. My understanding is that it is about to hit store shelves.  We also spent some time discussing Cigar Federation and Stogie Geeks (Phil is a huge fan of Stogie Geeks and big sponsor) and discussed working together going forward.
Finally, Brian Chinnock of Chinnock Cellars was also at the Festival.  I had only met Brian once, but we've spoken via email a bit and it was nice to touch base again.  I had known Brian was working on a new blend via a contest held on Cigar News and he gave me some insight into the blend and name. Brian chose the name 'Fattoria' which fits nicely with the branding of his current cigars - Estate, Terroir and Pressoir.  'Fattoria' is a word only used in Tuscany that translates, roughly, to Farmhouse.  Brian stated that, while the Terroir is creamy and nutty and the Pressoir is a 'chocolate bomb', the Fattoria, which is set to debut at IPCPR, he described as a "cream bomb".  After some discussion about Cigar Federation and getting him back on CigarChat, the Festival was coming to a close and I was on my way.
After saying my 'goodbyes' to everyone, we got in the car and headed home.  On the way home, I asked my buddy Mike for his thoughts on the event and how he would compare it to CI's CigarFest that I had previously taken him to, and his response echos my thoughts completely.  Mike noted that while he got more cigars at CigarFest, he was much more excited about the "quality" of the cigars he received at NJ Cigar Festival - there were cigars he was eager to try or had previously enjoyed.  Additionally, he liked the laid back, relaxing nature of this event where he got to actually speak with manufacturers and meet people as opposed to the hustle and bustle of other events where he felt he was constantly rushing and not enjoying the experience.  He said he met good people, smoked some great cigars, and had a glorious, relaxing day - exactly what we all look for in a cigar event.  If you can, I urge you to fit the NJ Cigar Festival into your plans for next year!